Loaves & Fishes Fundraiser 
Dear St Mary's Parishioners, Please consider giving donations to Loaves & Fishes Rhode Island (LFRI) so that we may continue to feed & clothe our brothers and sisters in need. While for the most part our traditional canteen truck runs has been suspended during the Covid-19 epidemic, we still put donations and grant funds to very good use. Our twelve member churches (St Mary's being one) have been meeting the need in a host of other ways. They, with the help of many loyal volunteers, have conducted 160 (22 of these from St Mary's) drop delivery vehicle runs in the past eleven months. This includes homeless shelters, soup kitchens and schools in Providence, Woonsocket and East Providence; providing food, clothing and other essentials for distribution to their clients. Go to www.lfri.org to see more specifics about these vehicle runs and ways you you can donate. Also, there are envelopes on the table at the back of the church marked LFRI Donations that you can use to make donations and place in the collection basket. Thank you and God Bless Bill Sweeney
Loaves & Fishes Rhode Island
Activity Summary
Ten Months Thru October 2021
11/18/21
While for the most part our traditional canteen truck runs, directly serving our homeless brothers and sisters in need, has been suspended during the Covid 19 epidemic, we still put donations and grant funds to very good use. Our twelve member churches have been meeting the need in a host of other ways. Here is a summary of what we have been up to in the past ten months:  
Vehicle Runs LFRI Twelve Member churches, with the help of many loyal volunteers, have conducted 150 drop delivery vehicle runs. This includes   homeless shelters, soup kitchens and schools in Providence, Woonsocket and East Providence; providing food, clothing and other essentials for distribution to their clients. This includes the following:
Adopt a School Program 26 of above runs were to middle schools in the East Providence area, providing food, clothing and books for needy school children.  
Back Packs for the needy.  Over 500 back packs containing food and other essentials were included. 
Youth Center Deliveries. 8 Friday summer volunteer family lunch deliveries were made to youth centers in Providence.  
Soups for the needy. In 13 of the above runs, we delivered 806 4lb frozen soup bags to some 10 homeless shelters and soup kitchens in Providence. 
The above deliveries were made possible by the donations and grant funds we received. If you would like to support our continuation of the above efforts, please consider a donation to our non-profit 50(c)(3) Loaves & Fishes Rhode Island. You can do so via PayPal on their website or by mail, with checks made out to LFRI, to LFRI 1520 Broad Street, Providence, RI 02905, attention Bill Aldrich. 
Many thanks and God Bless.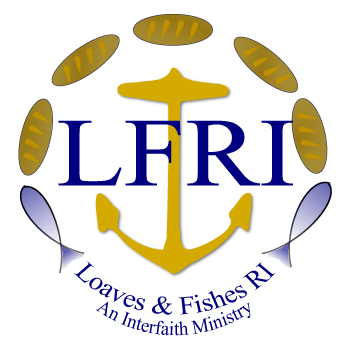 ///////////////////////////////////////////////////////////////////
Thanks very much for your generous response to our ongoing requests for help meeting the needs of St Mary's Loaves and Fishes ministry. Please keep those warm coats for men and women coming. Other clothing items in short supply now are warm hats and gloves for men, and socks and underwear for women. Winter shoes and boots, sweatpants , backpacks, and sweatshirts/hoodies for both men and women are always very useful as well.
Our toiletry inventory  is also running very low for some items.
Small size products are most useful for the homeless we serve since they need to carry everything with them.
Items in greatest need are women's hygiene products, razors, toothbrushes, lotion, deodorant, and hair conditioner. Chapstick/lip balm and hand and body warmers will be especially useful for the cold weather ahead.
Loaves and Fishes RI -- St Mary's appreciates your donations. With your ongoing assistance we can continue to help our area's homeless and needy men and women. Thank you in advance!
Please call reception (401) 253-3300 before bringing clothes donations to the Parish Office.
M-F, 8:30-2:30 or leave a message and someone will call you back.
Drop off arrangements will be to the parking lot (basement door) only
Thank you!